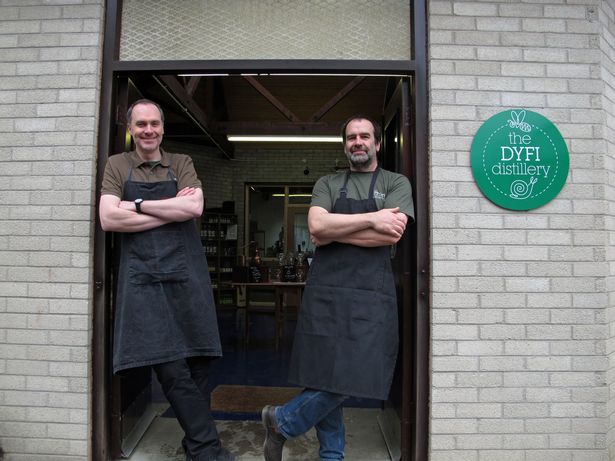 Dyfi Distillery was set up by Danny and his brother Pete, a hill farmer, forager, beekeeper and experimental scientist, after two years of research and development. Danny told us that, "We wanted to develop a sustainable business for the environment, but also one that creates very small quantities of very high-quality Gin."

Uniquely the Gin from the distillery is dependent on the environment, as a high proportion of the botanicals used in producing the Gins come from foraging in the surrounding area. Danny explains, "Using such a high proportion of foraged materials in our gins is very time consuming, but we always wanted to produce something with a genuine sense of where it comes from, and being in a UNESCO world biosphere Reserve makes it more logical still, as the botanical diversity is astonishing here. The result is something which could come from nowhere else."

Contrasting with this back to nature approach to sustainably sourcing the ingredients, the actual production of the gin is a meticulous affair. Distilled in two small 100 litre stills, they have been custom adapted to offer maximum control over temperature and copper contact, the result is a convention-defying product that has a true sense of the special environment it's created in.

Currently released are Dyfi Original Gin, winner of a silver medal at the International Wine and Spirit Competition 2016, which remains a firm favourite in the distillery shop and with local hostelries. Their second product 'Pollination' has caused a sensation. Labelled 'Star Buy Gin' by Olly Smith of Event Magazine (December 2016), "Best gin in the world" (Peter Wood), and "The finest gin nose I've ever encountered" (Ralphy Mitchell), Pollination combines foraged botanicals from the Dyfi biosphere with crisp fresh spring water to paint a flavour picture of wildflowers, aromatic leaves, fruits and conifer tips. Due to the seasonal nature of the botanicals and in order to ensure sustainability, Pollination is only available in very limited quantities so if you see a bottle, be sure to snatch it up.

In the near future, Pete and Danny will be bringing their latest exciting product, Hibernation, to market. A barrel aged gin, Hibernation is believed to be the first to be aged in a fully-seasoned White Port barrel. Danny told us,

"Hibernation Gin will be something else unique, for different reasons. Other aged gins have been produced, but never before aged in an old white port cask. It gives a touch of colour, but also develops the flavour (more from the port than from the wood itself)."

Every bottle that leaves the distillery is hand labelled with the production season, batch number and the name of the bottler, adding that extra special touch. We currently have the superb Pollination Gin available from Lewis and Cooper, we also hold regular Gin tastings in both Yarm and Northallerton, so keep an eye on our Facebook pages for more information.