Try our exceptional new wines 
Come and see the full range in-store 
Lewis & Cooper Rosso: A refreshing, medium-bodied Merlot with juicy red fruit flavours - easy drinking and approachable. 
Lewis & Cooper DOC Prosecco Extra Brut: With a persistent mousse, this has rich aromas of ripe apple, lemon and grapefruit. On the palate it is fresh and full-bodied. 
Lewis & Cooper Bianco: Classic Pinot Grigio from the Veneto region - crisp, dry and with a good acidity. A great, all-round food wine.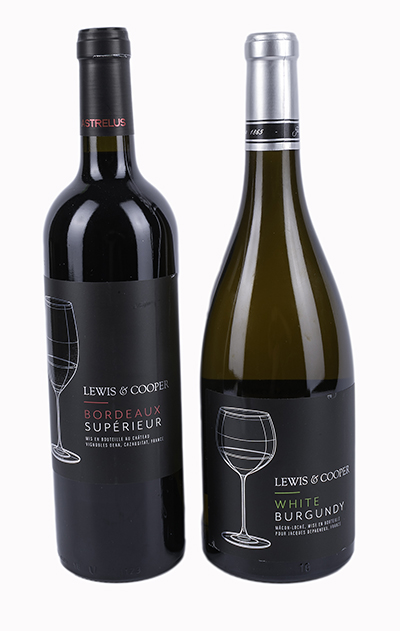 Lewis & Cooper Bordeaux Supérieur: A Bordeaux with a distiinct English influence. It hails from the small (7 hectares), award-winning Chateau Astrelus which was set up in 2013 by an English-born couple. A generous, fruit-driven red, this is a blend of Cabernet Sauvignon and Merlot - offering plum, black cherry and chocolate flavours, it is robust and spicy with a lasting finish. Perfect with red meats, spice or charcuterie. 
Lewis & Cooper White Burgundy: Awarded a silver medal at the Decanter World Wine Awards 2019. This is AOC Machon-Loché - made from 100% Chardonnay, it is fresh and dry with lovely citrus aromas. Add in the judicious use of French oak in the maturing and the result is an elegant, delicious white wine.