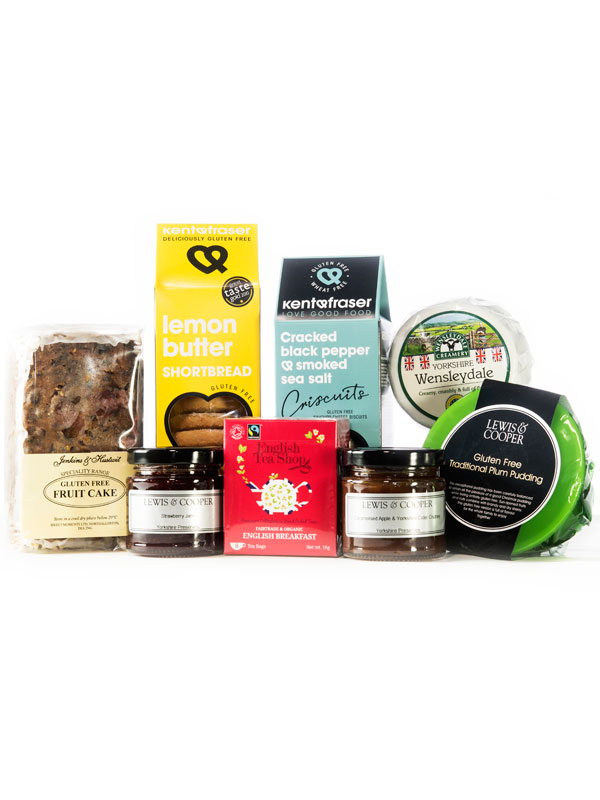 With 1% of the population now diagnosed as sufferers of coeliac disease and with estimates of at least 50000 more undiagnosed sufferers, gluten content is now an important consideration when buying food gifts. To help you out, our hamper team have used their experience and knowledge to come up with a guide to help you choose a hamper that will allow you to pick the perfect gift for the coeliac suffering foodie in your life.
To begin with we have selected a range of delicious gluten-free biscuits from the award-winning Kent & Fraser bakery. They are absolutely scrumptious in their own right so even if you're not a Coeliac sufferer they're worth a try. We've also developed a gluten-free version of our famous and multi-award winning Lewis & Cooper plum pudding. These products are great alternatives to the gluten-containing originals and are a great addition to any hamper.
Many of our regular food hall items are also gluten free and they have been marked with a tick mark and a gluten-free label on the relevant product page. Wines are generally gluten-free but avoid beers and whiskies unless specifically marked as suitable (e.g. Green's IPA and Dark Ale.) Most deli items are gluten free as well, so why not compliment the Kent & Fraser Roasted Onion & Nigella Seed Criscuits with a creamy, crumbly real Hawes Wensleydale cheese.
Jams tend to be gluten free as well and these are nice additions to a hamper, although be careful with chutneys and relishes as some of these can contain traces of gluten and avoid ones with Ale. Many snacks are also gluten free, so you could add some olives or rice crackers for something to nibble on. If you're in any doubt about any of the products you can refer to the nutritional information for a full breakdown of allergens, these are accessed by a link from the product pages.
If you're a little pushed for time we've put together a delicious ready-made Coeliac friendly hamper for you too, using our years of experience.
We hope that this little guide has been a help in choosing your gift. If you have any questions or comments please call our hamper team on 01609 777700 or alternatively email hampers@lewisandcooper.co.uk